Keys to an Effective Program
Effectively managing your fluid analysis program can save your company money, reduce unexpected downtime and extend fluid drain intervals. Having helped thousands of organizations make more informed maintenance decisions to maximize equipment performance, POLARIS Laboratories® has identified seven key attributes to consider when creating the perfect program for you.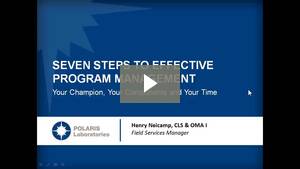 Seven Steps to Managing Effective Fluid Analysis
Step 1 — Set attainable program goals
Carefully examine your current maintenance practices and strategies to determine whether or not they are helping you accomplish your goals. Do you want to:
Reduce unscheduled downtime?
Reduce labor and repair costs?
Document equipment "saves," increases in production or reductions in fluid consumption?
Extend fluid drain intervals?
Extend equipment life yet maintain reliability?
Move from interval-based maintenance to condition-based maintenance?
Step 2 — Determine the resources you need to sufficiently run the program
The size of your program will determine the personnel and resources necessary to maintain it and whether or not fluid analysis is their sole responsibility or only a part of their job. Consider the following:
How many units will be sampled and at what intervals?
Who will perform any recommended maintenance?
What information will be documented and reported to management and how often?
Will fluid analysis data be considered when making equipment purchasing decisions?
What training will be required and who will do it?
Step 3 — Build the appropriate equipment lists
Equipment list information should be sent to your laboratory before samples are submitted for processing. When compiling the equipment list, consider the following:
Component type
Manufacturer
Model number
Lubricant manufacturer
Lubricant type
Viscosity grade
Filtration Type – Full Flow, Duplex, By-Pass, Screen Mesh, Portable
Sump capacity
Step 4 — Determine sampling intervals
Although an equipment manufacturer's recommendations provide a good starting point for developing preventive maintenance practices, sampling intervals should be based on the following considerations:
How critical the unit is to production
Environmental factors, including hot/dirty operating conditions, short trips with heavy loads and excessive idle times
Repair times, replacement costs and downtime costs
For proper trending, samples should be taken at regular intervals and from the same point each time. Train and retrain when necessary, the personnel responsible for taking samples on the appropriate sampling points, frequency and designated method for each unit tested.
Step 5 — Take an active role in minimizing sample turnaround time
Don't compromise the value of your fluid analysis results and the laboratory's maintenance recommendations with unnecessary delays in turnaround time.
Send sample information quicker and simpler with greater accuracy via mobile sample submission and online sample submission
Ship samples to the laboratory the same day they are taken
Use a trackable mail service for shipping samples
Receive all fluid analysis results electronically
Understand laboratory turnaround time begins when the sample is received and ends when results have been sent to the user
Step 6 — Report key results to management
When reviewing your most critical information, consider what management needs to know most – and share the results with them. The size of your operation and your goals and resources will dictate the best and most efficient metrics to share with management.  Some of the data can include:
Scheduled downtime of equipment
Reduction in oil costs via extended drain intervals
Uptime reports
Failure reductions
Documentation of cost savings due to fluid analysis
Step 7 — Select a laboratory that will help you every step of the way
To realize the true value that an effective fluid analysis program can have on your overall business performance, you need to select the right partner. By collaborating with your fluid analysis partner, you will devise a program that delivers relevant and accurate results and enables you to take timely action on your equipment. In deciding if a laboratory is right for you, consider the following:
Is the laboratory ISO 17025 accredited?
Can it perform the testing and analysis you need in an acceptable turnaround time?
Can you send your samples to any testing location?
Can you always speak with a data analyst?
Is training and/or field support available?
At POLARIS Laboratories® you will find:
Reliable, repeatable results fast – more than 85% of the samples we process daily are returned to the customer within 24 hours with detailed analysis and recommendations. Learn more about POLARIS Laboratories® Turnaround Time.
Centralized data analysis and customer services for easy access to your information and the freedom to send your samples to the laboratory closest to you.
Extensive field services, practical training and a reliability partner you can depend on.
Innovative thinking, customer-driven solutions and a practical approach to maintenance management.
POLARIS Laboratories® is a full-service fluid analysis laboratory. We know that oil, fuel and coolant affect equipment performance. That's why we specialize in testing all three.